As a project manager, it is essential to be conscious of natural resources and how to utilize them to manage projects in an efficient and sustainable manner
As a project manager, it is crucial to be aware of natural assets. They help ensure sustainability and resource optimization for the project, leading to improved efficiency and performance over time. Natural assets also play an essential role in mitigating risk, creating long-term economic value, and increasing social benefits.
In this blog, we will gain a general understanding of natural assets. Explore the concept and utilization of natural assets. Additionally, we will discuss successful project case studies. Finally, we will discuss potential solutions for current challenges posed by the utilization of natural assets.
What is a natural asset?
Nature offers the perfect environment for natural assets to exist, without the need of any human-made construction methods.
Natural assets originate directly from the environment. Additionally, these nature-based ecosystems provide supporting services that would otherwise require expensive engineered and construction to replicate. As a result, they offer an economical and effective way of achieving the same outcomes. Natural assets refer to features such as the climate, vegetation, terrain, groundwater, air and water quality, wetlands etc.
Natural assets are often described as natural capital due to their value and contribution they make to the global economy. For example:
---
---
By examining the definitions of natural assets and natural capital, it's easy to notice their similarities. Importantly, both definitions link nature to monetary value connecting its importance to our wallets.
What is the Natural Asset Management Approach?
Exploring ways to extract value from naturals assets is a key concept to understand. Furthermore, utilizing these resources can help provide economic, social, and environmental benefits
The concept of natural assets is generally well-understood in environmental circles. However, its use in project management planning is emerging. As more organizations recognize the value of integrating natural assets into their plans, it is becoming increasingly important for project managers to understand how to apply them within their projects.
Municipalities are moving towards a Municipal Natural Assets Intuitive (MNAI) which involves grouping green infrastructure and natural assets. This allows municipalities to emphasize a structured approach to the classification and preservation. 2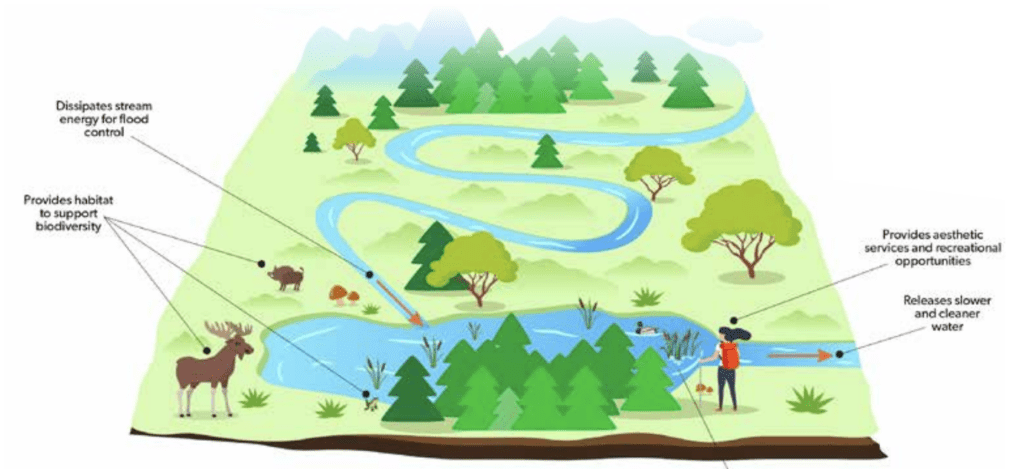 'Natural asset' and 'green infrastructure' may sound similar, but they are in fact two entirely different things
Although people tend to confuse 'natural asset' and 'green infrastructure', they are two entirely separate concepts. Green infrastructure is highly specialized and purposeful, integrating ecosystems with engineering to mimic the behaviour of nature for human-friendly purposes. Natural assets refer to the collection of natural resources and habitats that provide benefits to humanity. These assets include forests, rivers, seas, mountains and so on.
Numerous interpretations of green infrastructure have been established in relation to natural assets. Ultimately, these allude to the use of nature for the benefit of those living near it. Generally, these definitions all refer to the utilization of natural ecosystems to benefit the people living nearby.
To help highlight the relationship between the various terms please review the following diagram based on the MNIA definition.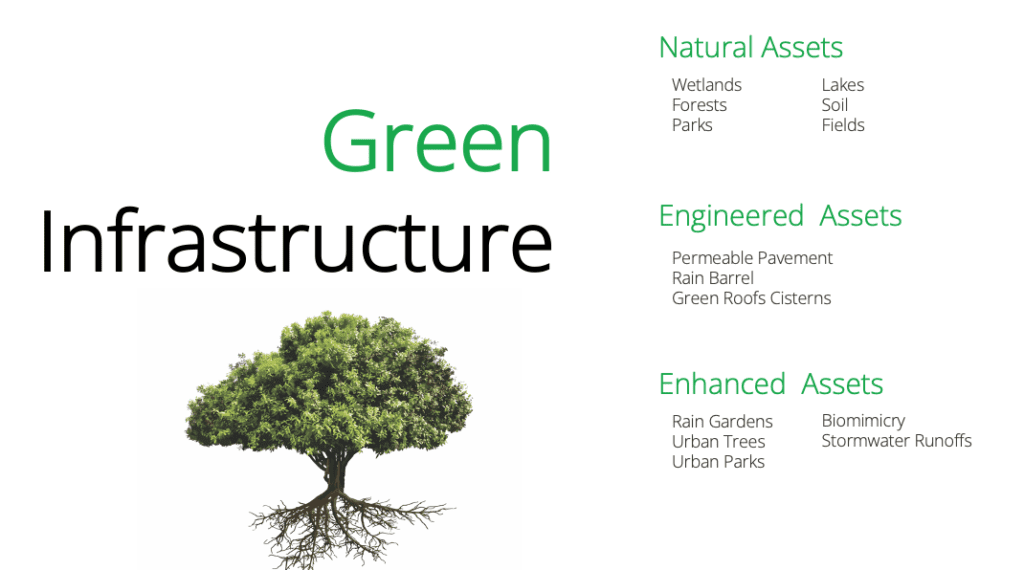 Current use of natural assets
An aquifer is an invaluable natural asset that can purify and store water constantly, ensuring a steady supply of uncontaminated drinking water
Gibsons, B.C. is the first municipality to implement existing government strategies to monitor and manage their natural resources more effectively. It all began with the Gibsons Aquifer. This aquifer is capable of purifying and retaining water which provides a steady source of clean drinking water for the current and future town.
Should contamination or degradation occur, the town of would have to foot a large bill for restoring the aquifer. At present, only a meager amount of $28,000 is spent annually to keep track of it. By tagging the aquifer as a significant infrastructure asset, the town can ensure there is suitable management and protection for future use. This practice would ensure that this vital asset remains in good condition for a long period of time.
Shared Stakeholder Responsibility of Natural Assets
Collaborative stewardship of our natural resources is vital for sustainability. Shared management is an effective approach to protect the environment and optimize use of resources
Working together to preserve and optimize natural resources is essential for sustainable development. Therefore, sharing stakeholder management responsibilities ensures the environment remains safe and healthy while maximizing resources. It's a great way to benefit both people and nature.
When thinking in terms of an ecosystem, it's easy to understand that nature would not be confined to municipal boundaries and often extend into many adjacent municipalities, for example the Rocky Mountains. Therefore, to protect the natural asset and ensure its integrity, a shared management system should be implemented.
An example of this is when a creek flows through two neighboring municipalities, both of which receive benefits from it. Nevertheless, should its management be poorly planned and ineffective, all the entities affected by it will suffer. 4
Successful project case studies
The municipality of Nanaimo formulated an evaluation of the stormwater facilities offered by the Buttertubs Marsh Preservation Region (BMCA).
The 55 hectares (133 acres) of wetland and floodplain near the Millstone River is a reclamation project that has proven to be beneficial.
Studies have shown that this area could offer excellent protection of some downtown neighborhoods from flooding with its flood attenuation services.
Replacing the current services with stormwater management ponds and constructed wetlands would cost approximately $4,6M.
Conclusion: This project showed that the BMCA is a great alternative to engineered infrastructure in terms of stormwater detention benefits. Even if there are higher volumes and velocities of flows due to climate change, the BMCA's performance remains consistent.5
---
The Town of Oakville examined the stormwater support rendered by the Maple Hurst Remnant Channel, a long stretch of stream in the more established area going through immense transformation.
The data showed that the channel provides an equivalent stormwater service to a manufactured asset and would require somewhere between $1.24 – $1.44 million for substitution.
Conclusion: This project demonstrated that the natural asset provides similar stormwater benefits as the engineered alternatives, thus making it a great choice to consider for future inquiries into other channels in the town. The results acquired during the piloting process will be shared across various departments and with the public to emphasize natural assets' credibility and how they can facilitate a range of services. It is important to create supportive policies as well as tangible efforts on-the-ground to successfully integrate these important elements.5
Potential solutions for current challenges posed by the utilization of natural assets
The City of Saskatoon was able to share some valuable insights they acquired while managing their natural assets.
It's important to get the stakeholders and experts involved from the beginning. Having inputs from multiple perspectives on ecosystem services, including cultural services, can help in better defining and valuing them. External and internal subject matter experts are especially helpful in this regard.
Sharing learnings and information sourced from other projects can be a great help in ensuring success. For example, the city staff took advantage of the Municipal Natural Asset Initiative's webinar and publications to define and scope out their own natural assets.
Starting is beneficial, even in less-than-ideal situations. For instance, despite the lack of data and knowledge in the city, the initiative to construct an inventory and commence a pilot appraisal provided a platform for future progress.
Conclusion – natural assets aiding infrastructure
To summarize, natural assets can greatly assist infrastructure projects by providing sustainability and stability
Building eco-friendly and climate adaptive infrastructure is an important step towards creating a sustainable future. Natural assets can play a key role in the planning process. To emphasize the importance, financial incentives should be a part of the urban planning budget cycle.
As a project manager, it is imperative to be cognizant of natural resources. As part of their project management responsibilities, managers will need to consider natural assets more and more. This is in addition to the existing regulatory and environmental regulations which they must abide by.
About Koncept
Koncept has the expertise to assist in a broad range of strategic initiatives, from major capital projects to undertaking complex transformations. We can help you keep track of project variables throughout its life cycle and ensure that it is on target for meeting its objectives. Our project services are perfect for enhancing both efficiency and cost-effectiveness, allowing you to maximize results. Koncept supports different methodologies and standards for decision making, project control, advisory and coaching. Contact us today!
References:
1 – The Convention on Biological Diversity – source; https://www.cbd.int/business/projects/natcap.shtml
2 – Defining and Scoping Municipal Natural Assets September 2017; source https://mnai.ca/media/2018/02/finaldesignedsept18mnai.pdf
3 – Figure 1 Municipal Natural Assets Initiative; source https://mnai.ca/media/2019/08/spmnaijuly31-summaryweb.pdf
4 – See Defining and Scoping Municipal Natural Assets September 2017, Section 3.1.2 Shared Management of Assets; source https://mnai.ca/media/2018/02/finaldesignedsept18mnai.pdf
5 – MNAI: RESULTS FROM THE FIRST NATIONAL COHORT – DECISION-MAKER SUMMARY July 2018 – Pilot Project Summaries; Source https://mnai.ca/media/2019/08/spmnaijuly31-summaryweb.pdf